Within the framework of our ninth Global Business Management Social Day, more than 80 of our students, most of them freshman or in their third semester, had the possibility to support a variety of social organizations all around Augsburg and got active for one day themselves. During the day the students spent their time in small groups distributed to their facility of choice. They worked on projects like marketing campaigns, exhibitions, gave lessons to primary-school students or baked cookies with the elderly to sell them on a Christmas market to finance excursion.
Later all groups came together at the evening event of the Social Day at the Zeughausstuben. There, all groups presented their individual projects to share impressions of the organization the had visited: the issues they were facing, the strategies they came up with, as well as their achievements of the day. Some groups even made a short movie to compile their project.
Thereafter, the participants could strengthen themselves with appetizers and drinks and share more of their impressions in line with a nice gathering. Subsequent the final part of the Global Business Social Day was the awards ceremony, where a judging panel honored the best projects and handed over the prize in form of a financial reward to further support these organizations and their projects. The winners of this years´ Social day were:
#1: Mutmachermenschen: a project that supports people with mental illnesses to reintegrate in society and the employment market received a donation of 650€
#2: Die Junge Werkstatt: an organization that supports young refugees to enter their first jobs in germany received a donation of 350€
#2: Frère-Roger Kinderzentrum: Sharing the second place, the organization assists children and young adults, also received a donation of 350€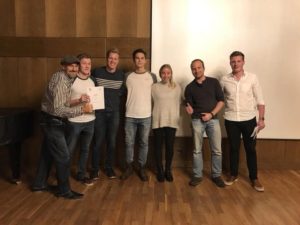 We are very proud of how the Social Day established itself over the past years and became a fix part of our course of studies. We also want to express our gratitude to Prof. Erik Lehmann who also took part at the soirée and held a speech about the Social Day and its connection to our course of studies. We also want to thank all other representatives of the university and the social organizations that partook in our project. A special thanks also goes to our sponsors the Stadtsparkasse Augsburg, the Augsburger Aktienbank, the LEW Lechwerke and the Augusta-Bank. The feedback of all attendees as well as all participating organizations was exceedingly positive and we are all looking forward to the upcoming Social Day 2018.